Description
VERBAL MASTER (Created and Developed in Concord, NC)
Students Can't Read or Write
Above Their Language Level of Comprehension.
VERBAL MASTER provides the needed focus on vocabulary, to help our kids succeed in school, on the SAT, ACT and in Life…..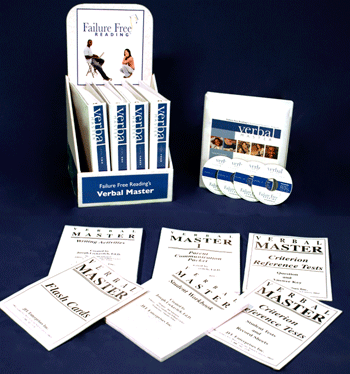 Verbal Master is a powerful, yet flexible and practical way to explicitly build vocabulary for all grades 6-12 students. Available in intervention, supplemental and remedial editions, Verbal Master provides the structure teachers need in order to build their students' receptive and expressive vocabulary through age-appropriate comprehension exercises in multiple contexts. Correlated creative writing activitiesm, and unique talking software enable students to develop topics, subtopics and sentences on their own through a structured series of self-paced exercises.
Verbal Master explicitly teaches:
• Correct pronunciations & definitions
• Synonyms
• Comprehension
• Spelling
• Age-appropriate language

Verbal Master Intervention Edition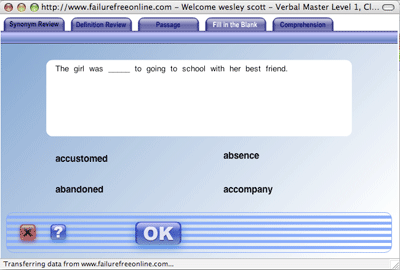 Each Level Includes:
• Scripted Teacher Manual
• Writing Activities
• Talking Software (CD-ROM or Online)
• Student Workbooks
• Criterion Reference Test
• Parent Communication Packet
• Flashcards
• 180 New Words
Verbal Master Print-Only Supplemental Edition
Each Level Includes:
• Scripted Teacher Manual
• Student Workbook Exercises (Blackline Master)
• Writing Activities (Blackline Master)
This class-wide, print-only edition of Verbal Master integrates with any secondary English curriculum. Now you can accelerate every student's vocabulary and writing skills, regardless of reading ability.
Verbal Master Online Remedial Edition
The perfect remedial solution for struggling high school readers, or middle school students reading ahead of grade level. Students work at their own pace from any Internet-enabled computer meeting technical and bandwidth requirements.
Use Verbal Master for:
• SAT/ACT/exit exam preparation
• Accelerating vocabulary and writing skills
• Everyday vocabulary classroom instruction
• After school, Extra Credit
• School wide or individual pull out sessions
Contact
Address

Union Street, Concord, NC 28025

Phone

E-mail

Website

Category

Learning Center, Tutoring

Location

Charlotte, Concord
By sedergren
Email: bill.sedergren@wellsfargo.com
Please create a form with contact 7 and add.
Theme Settings > Item Pages > Contact > Contact Form ID